Vinyl Flooring in Kelowna, BC
Enhance your interior design by choosing the most versatile flooring option available today—vinyl. Not only is vinyl flooring beautiful, durable, and easy to maintain, it also comes in countless different design options that look great in any room. These floors last a lifetime with the right care, repelling everything from scratches to stains. With the unbeatable selection available at our store, you are sure to find the perfect material for your renovation project and budget.
As the local area's leading supplier of vinyl tile and vinyl plank flooring, we are proud to carry nearly every conceivable style on the market at competitive prices you won't find elsewhere. When you are searching for an affordable resilient flooring product that replicates the appearance of natural alternatives like wood and stone, look no further than our showroom.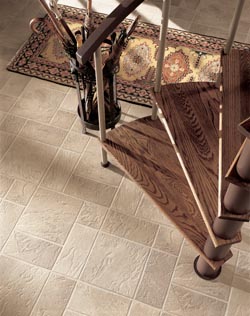 Give Your Home Character by Installing Vinyl Tile Flooring
Do you admire the timeless elegance of tile but balk at its price? Our vinyl tile flooring products—also known as luxury vinyl tile or LVT— are the perfect solution for you. Thanks to the latest developments in embossment technology, these floors perfectly mimic the appearance of the nation's most popular flooring materials, including ceramic, marble, porcelain, slate, and natural stone. Every detail, down to the rough, rustic look of the stone, is replicated flawlessly, allowing you to enjoy an elegant design without breaking your budget.
Complement any interior design with ease by installing vinyl sheet flooring in your rooms. Vinyl comes in a diverse array of colors, patterns, and styles, so there is a product to match any type of décor. Looking for something contemporary, bold and eye-catching? Or do you need a floor that exudes class and professionalism? Regardless of what kind of floor you want, we have a product you will love in our showroom.
Vinyl sheet flooring is also great for busy families with children and pets since it is highly durable and scratch-resistant. Stop by our showroom today to explore all the design possibilities vinyl products offer you and your home.
Bring the natural beauty of hardwood into your rooms at just a fraction of the price by choosing vinyl plank flooring—also known as luxury vinyl planks. While wooden floors are gorgeous, they are not cost-effect for every household or business. Vinyl plank floors are a great compromise.
Due to its special construction, vinyl reproduces the appearance of any wood species, including oak, cherry, birch, hickory, and more. No matter what finish or stain your prefer, there is a vinyl plank product waiting for you in our showroom.
Fast and Easy Vinyl Flooring Installation
Enjoy your room's new look as soon as possible with professional vinyl flooring installation from our trusted contractors. We offer efficient installation at an affordable price, allowing you to satisfy your decorating plans and your family's lifestyle requirements with ease. All of our installers are specially trained to work with every product our store sells, including our many vinyl styles.
Since vinyl flooring installation is a relatively straightforward process compared to others, your job will be done in the blink of an eye. Our contractors will be in and of your home before you even noticed they were there, leaving behind a gorgeous new floor for you and your family to enjoy.
Save time and money by working with our installers instead of hunting down another contractor or trying to do it yourself. To ensure your new floor last its full lifetime and looks its best, it must be installed properly. Count on our vinyl flooring installation flooring experts to get the job done for you correctly, quickly, and at a fair price.
Why Homeowners Love Vinyl
In the modern household, floors take quite a beating. Children, pets, and simple everyday usage put a major strain on even the highest quality floors. To keep up with daily demands, you need a flooring option that finds the perfect balance between durability and beauty, blending seamlessly with your style while still holding up under strain. At our massive flooring showroom, we have the solution to your problems: vinyl flooring. Known for its resilience and damage-resistant, vinyl is great for those looking to invest in a floor that last.
Available in a variety of styles that mimic various flooring types, vinyl is also an economical choice for homeowners looking to improve the look and value of their home. Since the material comes in so many different designs, you can easily coordinate your new floor with your existing décor. This makes your rooms even more beautiful and inviting than they already are. For design advice and information on vinyl flooring products, speak to our showroom staff.
Homeowners also love vinyl because it is easy to take care of and clean. Vinyl does not require any time-consuming or costly maintenance. You keep your floor looking like new just by sweeping and mopping it regularly. If anything spills on your floor, simply wipe it up and use an appropriate cleaner to lift any stain that is left behind. Vinyl flooring is also water-resistant, so it works well in wet areas like your kitchen, bathroom, and laundry room. Talk to our team members to learn more about why vinyl is a great choice for your home.
---
Contact us for flooring expert advice to learn about the vinyl flooring brands we carry. We proudly serve Kelowna, Penticton, Summerland, Peachland, and Naramata, British Columbia, and the surrounding areas.