Luxury Vinyl Flooring in Kelowna, BC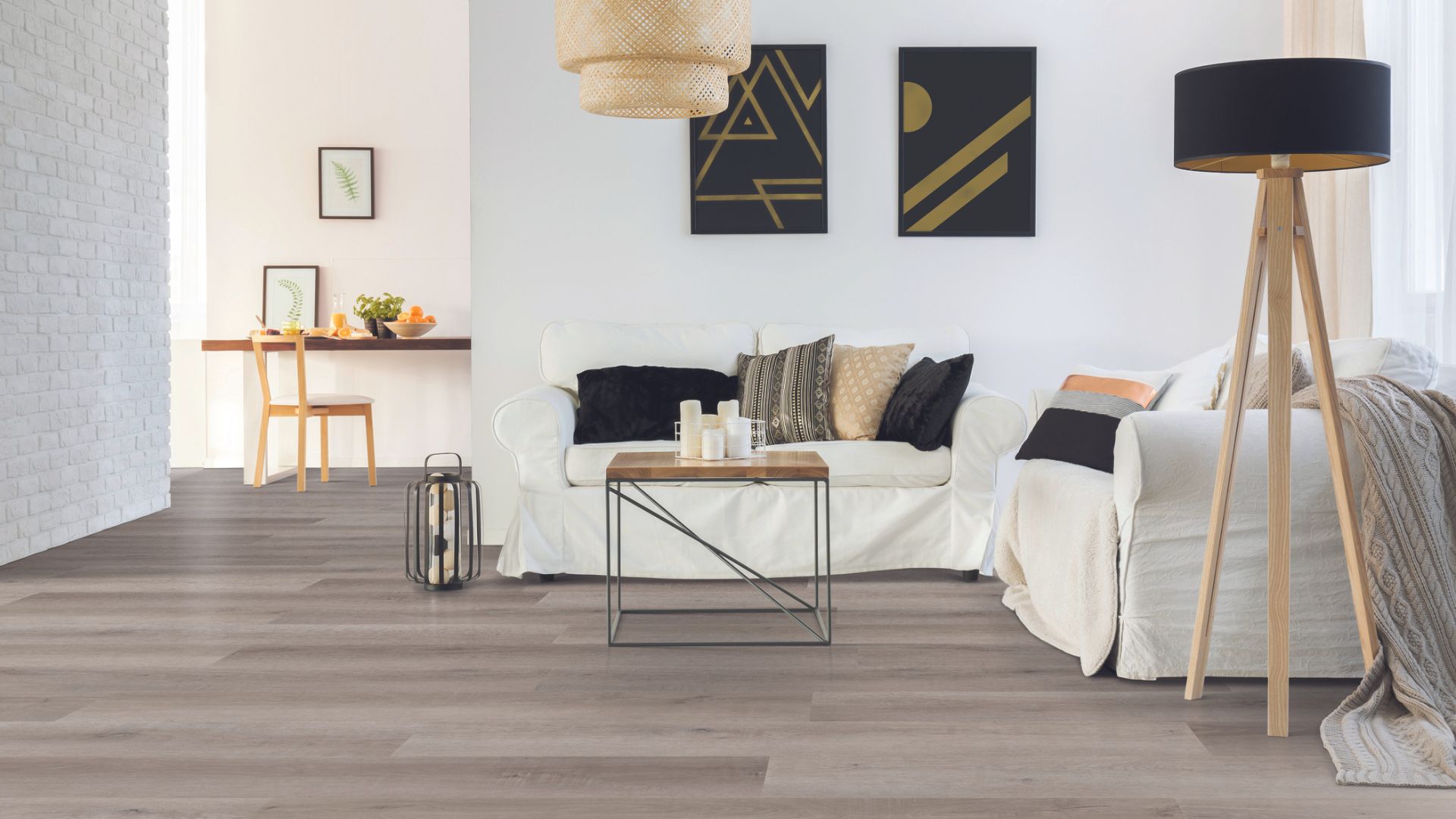 Elevate your Kelowna, BC residence with Flooring Canada Kelowna's luxury vinyl flooring collection. Transform your home's aesthetic and value with our cost-effective vinyl flooring solutions. Our showroom in Kelowna features diverse styles, ensuring you find the perfect fit for your space. Our experienced team is committed to assisting you, regardless of your budget. Trust Flooring Canada Kelowna for a seamless and stress-free experience, as we bring the timeless elegance of luxury vinyl flooring to your Kelowna home – combining style, durability, and affordability effortlessly.
Luxury Vinyl Flooring Types at Flooring Canada Kelowna
Explore Flooring Canada Kelowna's diverse range of luxury vinyl flooring types, each offering unique features to elevate your Kelowna, BC space:
Luxury Vinyl Tile (LVT): Experience sophistication with tile-inspired designs, replicating the look of natural stone or ceramic tiles. LVT provides a high-end aesthetic without compromising on durability.
Luxury Vinyl Plank (LVP): Capture the warmth and authenticity of hardwood with LVP. It is resilient, water-resistant, and easy to maintain, perfect for achieving a wood-floor appearance.
Sheet Vinyl: Enjoy seamless beauty with sheet vinyl in various patterns and colours. Its continuous sheets offer a smooth and cohesive look, making it an ideal choice for larger areas.
Linoleum: Opt for a sustainable choice with linoleum. Made from natural materials, it boasts eco-friendly properties while providing a resilient and comfortable flooring solution.
Marmoleum: Embrace the beauty of all-natural flooring with Marmoleum. Crafted from renewable materials, it's an eco-conscious choice that combines style and sustainability, positively impacting your Kelowna home.
Luxury Vinyl's Unmatched Advantages
Elevate your Kelowna, BC, home with the unparalleled advantages of luxury vinyl flooring from Flooring Canada Kelowna. Discover why our luxury vinyl options stand out:
Durability: With a resilient wear layer, luxury vinyl flooring withstands heavy foot traffic, making it ideal for high-traffic areas and busy households.
Water-Resistance: Enjoy peace of mind with water-resistant properties, making luxury vinyl a superb choice for kitchens, bathrooms, and other moisture-prone spaces.
Versatility: Choose from a diverse range of styles, colours, and patterns, mimicking the look of natural materials like wood, stone, and tile, allowing you to achieve the desired aesthetic for any room.
Easy Maintenance: Experience the convenience of easy cleaning – luxury vinyl flooring is a breeze, requiring simple routine care to keep it pristine.
Comfort Underfoot: Revel in the comfort provided by the softer surface of luxury vinyl, creating a more pleasant and cozy environment for your family and guests.
Affordability: Achieve the high-end look without breaking the bank; luxury vinyl flooring offers an affordable alternative to natural materials.
Choose Flooring Canada Kelowna for flooring that enhances your home's aesthetic and delivers durability, versatility, and comfort.
Where Can Luxury Vinyl Be Installed?
Discover the versatility of luxury vinyl flooring from Flooring Canada Kelowna, suitable for enhancing the ambiance in various spaces throughout your Kelowna, BC, home:
Living Areas: Bring style and comfort to your living room with the rich textures and designs of luxury vinyl flooring, creating a welcoming atmosphere for relaxation and entertainment.
Kitchens: With its water-resistant properties, luxury vinyl flooring is a perfect choice for kitchens, standing up to spills and providing an easy-to-clean surface for this high-traffic area.
Bathrooms: Transform your bathroom into a spa-like retreat with luxury vinyl's moisture-resistant features, offering durability and a touch of elegance.
Bedrooms: Enjoy the warmth and comfort of luxury vinyl underfoot in bedrooms, creating a cozy retreat while showcasing the beauty of wood or stone-inspired designs.
Hallways: Handle heavy foot traffic easily in hallways, as luxury vinyl's durable composition ensures long-lasting performance and easy maintenance.
Basements: Combat moisture concerns in basements by opting for luxury vinyl flooring, providing a stylish and water-resistant solution that enhances the functionality of the space.
Whether it's the heart of your home or a secluded retreat, Flooring Canada Kelowna's luxury vinyl flooring is designed to elevate the aesthetic and functionality of any room in your Kelowna residence.
Trending Styles: Luxury Vinyl Flooring Fashions in Kelowna, BC
Stay ahead of the design curve in Kelowna, BC, with the latest luxury vinyl flooring trends offered by Flooring Canada Kelowna. Explore the top choices gaining popularity:
Longer and Wider Luxury Vinyl Planks (LVP):
Description: Witness the trend towards extended and broader LVP, providing a contemporary and spacious aesthetic to rooms.
Key Feature: Realistic hardwood imagery combined with a quality cork backing for enhanced comfort and durability.
Bold Geometric Patterns:
Description: Make a statement with luxury vinyl flooring featuring eye-catching geometric patterns, adding a touch of modern flair and personality to your Kelowna home.
Key Feature: Diverse patterns and shapes allow creative and unique flooring designs.
Natural Stone and Tile Replication:
Description: Embrace the timeless appeal of natural stone and tile without maintenance, as luxury vinyl flooring continues to excel in replicating these materials' authentic look and feel.
Key Feature: Varied textures and shades provide a sophisticated, low-maintenance alternative to traditional stone or tile.
Experience these trends firsthand at Flooring Canada Kelowna, where we offer a curated selection of luxury vinyl flooring options to suit your style and preferences.
Professional Luxury Vinyl Flooring Installation in Kelowna, BC
Rely on our seasoned experts for a seamless, stress-free luxury vinyl flooring installation in Kelowna, BC. Our skilled in-house team ensures precision and efficiency, catering to single-room projects or entire home transformations. We prioritize your schedule for convenience, saving you time and resources.
Why choose us:
Skilled Technicians: Our experienced team guarantees a flawless finish.
Convenient Scheduling: We accommodate your timeline for a hassle-free experience.
Ultimate Confidence Guarantee: We stand by our work, offering free repairs within 30 days if needed.
Efficient Process: Our click system minimizes disruptions during installation.
Revitalize your space confidently. Contact us today to schedule your luxury vinyl flooring installation and enhance your home's aesthetics and functionality. We proudly serve customers in Kelowna, BC, and the surrounding areas.