Ceramic Tile in Kelowna, BC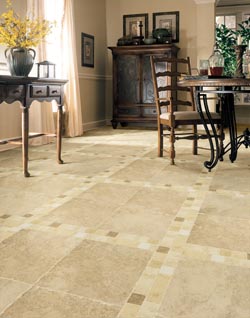 Take your home's aesthetic to the next level with our selection of stylish ceramic tile in Kelowna, BC. Visit our expansive showroom and browse hundreds of brand-name products manufactured by the most trusted flooring companies around. Our collections of ceramic floor tile come in many shapes, sizes, colours, and textures, so you can expect to find something that appeals to your sensibilities. Our ceramic tile shop stocks tile from the following manufacturers:
Bellisima Tile
Design Distinctions
Star Values
Hearth & Home
Dal-Tile
American Olean
Floorcraft
Terra del Sol
HomeCraft
Visit our ceramic tile shop to explore our selection of flooring products and find the one that suits your home and budget. Once you've settled on a style, be sure to talk to our team about scheduling professional ceramic tile installation. We're more than happy to come to your home, remove your existing flooring, and replace it with your latest ceramic investment.
Why Choose a Tile Floor Made of Ceramic?
When you're looking for functionality, design flexibility, and inherent beauty, it's hard to beat the infinite benefits of ceramic tile. Ceramic has been one of the most popular building materials in the world for hundreds of years. Its applications popularly include flooring; however, it is also used in many other projects. Its water-resistant properties make it ideal for use in bathrooms, kitchens, basements, and the outdoors, while its impact-resistant qualities make it great for floors that endure a lot of foot traffic. These qualities extend to more than just floors though, as ceramic tile is perfect for countertops, bathroom or kitchen backsplashes, and visual centerpieces like mosaic tile art. The possibilities are endless, and only limited by your imagination.
Its ceramic's composition and manufacturing that gives it superior qualities. Fine clays are baked at temperatures reaching 1,200 degrees Fahrenheit or more, resulting in a sturdy, non-porous material. It's this process that gives ceramic its ability to sustain against moisture, heavy impacts, heat, and decomposition.
Expect a wide array of styles, colours, and designs when you shop for ceramic floor tile. Advancements in modern imaging technology have expanded design options for ceramic, creating tiles that accurately mimic the look and texture other building materials. This has resulted in increased interest for materials such as ceramic woodgrain tile -- tile that matches the natural beauty of hardwood, but possesses the superior moisture- and impact-resistance of ceramic. Ceramic can also mimic the appearance and texture of natural stone, so you can enjoy a naturally elegant look at a fraction of the cost.
Part of what makes ceramic so popular is its ease of maintenance. Its water-resistant properties lend themselves to ease of maintenance, which is part of the reason why so many ceramic floors are used in kitchens, bathrooms, and other areas that endure moisture. And while ceramic is a popular choice for these rooms, it works well in other parts of your home as well. Wall-to-wall tile is a smart choice for homeowners that prioritize low-maintenance lifestyles. Light sweeping and basic mopping is all it really takes to maintain these floors. Your imagination is the only limit, and our flooring experts are always ready to help you brainstorm new applications for this stunning flooring throughout your home.
Leave Ceramic Tile Installation to Us
Ceramic tile is one of the most dynamic flooring options available. It comes in so many different styles, sizes, patterns, and textures that it can be hard to make a selection for some people. Trust our flooring professionals to help you make a choice that appeals to your sense of style. If you're unsure which ceramic product is right for your home, don't hesitate to ask our specialists for their professional recommendations. We're happy to help you explore our selection, weigh your options, and help you purchase a tile floor made of ceramic that suits both your home and your budget. You can trust our expert opinion on every type of flooring, no matter the size or scale of your project.
Of the many different types of flooring, ceramic tile is one of the hardest to install. Mistakes aren't always immediately apparent, as uneven thin-set may only become noticeable after the floor has settled. This doesn't just cause problems aesthetically, but for safety as well, because uneven tiles can increase the risk of tripping. Problems like these can be hard to fix, and end up increasing your costs unnecessarily. We recommend homeowners to opt for our professional ceramic tile installation. Otherwise, you could end up with an uneven floor and a dangerous living situation.
Count on our pros to maximize your flooring investment. Our installation crew guarantees your satisfaction and a clean, polished look. We guarantee the quality of our installation for life, and will fix any installation-related problem with your floor for as long as you have that floor. Let our experienced team ensure your floors—ceramic bathroom tile, kitchen tile, living room tile or more—look and perform as intended. We have the skills and tools needed to handle projects of every kind.
Extend the lifespan of your floor and have our team seal your new floors right away. An industrial-grade sealant prevents grout discoloration, scratches, and water absorption for a longer period of time. The sooner you have sealant applied, the better your ceramic tile will look for years to come.

Contact us with any questions you have about our ceramic tile. We proudly serve Kelowna, British Columbia and the surrounding area.